Jewelry Blog Rockford, IL
Music Friday Flashback: Seals & Crofts' 'Diamond Girl' Shines Like A Precious Stone November 19, 2021
Welcome to another Music Friday Flashback, when we bring you classic tunes with jewelry, gemstones or precious metals in the title or lyrics. Today, we feature Seals & Crofts performing their Summer of '73 hit, "Diamond Girl."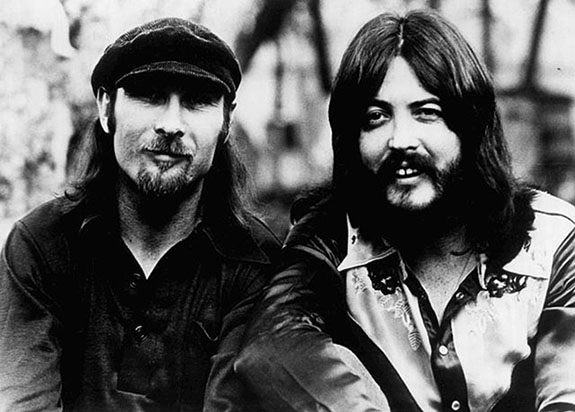 Using gemstone imagery to describe a girl who is perfect in their eyes, Jimmy Seals and Dash Crofts sing, "Diamond Girl – you sure do shine / Glad I found you – glad you're mine / Oh my love, you're like a precious stone / Part of earth where heaven has rained on."
The Texas-born Seals and Crofts are famous for their lush harmonies, spiritual lyrics and a string of chart-toppers in the 1970s. Their songs are said to be influenced by the teachings of the Bahá'í faith.
Coming off their success with "Summer Breeze" in 1972, the duo was back in the studio one year later with "Diamond Girl."
Released as the title track of Seals & Crofts' fifth studio album, the single reached #6 on the
Billboard
Hot 100 chart. The album also was a huge success, as it rose to #4 on the
Billboard
200 chart. A second charting single from the album was "We May Never Pass This Way Again," which topped out at #21.
The duo had a strong run through the 1970s, but disbanded in 1980. They reunited briefly in 1991 and then again in 2004, when they released their final album,
Traces
.
Seals & Crofts' fans may not know that Jim Seals is the brother of Dan Seals, who was "England Dan" in the duo England Dan and John Ford Coley ("I'd Really Love to See You Tonight," 1976).In the early and mid-2000s, Jim Seals toured with his brother under the name, Seals & Seals.
Another interesting bit of trivia: Seals and Crofts both belonged to the group The Champs ("Tequila," 1958) in the late 1950s and early 1960s, before going out on their own.
Jim Seals turned 80 on October 17. Dash Crofts celebrated his 81st birthday on August 14.
Please check out the video of Seals & Crofts performing "Diamond Girl" live on
The Midnight Special
in 1973. The lyrics are below if you'd like to sing along…
"Diamond Girl"
Written by Jim Seals and Dash Crofts. Performed by Seals & Crofts.
Diamond Girl – you sure do shine
Glad I found you – glad you're mine
Oh my love, you're like a precious stone
Part of earth where heaven has rained on
Makes no difference where you are
Day or nighttime you're like a shinin' star
And how could I shine without you
When it's about you that I am
Diamond Girl – roamin' wild
Such a rare thing – radiant child
I could never find another one like you
Part of me is deep down inside you
Can't you feel the whole world's a-turnin'
We are real and we are a-burnin'
Diamond Girl now that I've found you
It's around you that I am
Diamond Girl – you sure do shine
Diamond Girl – you sure do shine
Diamond Girl – you sure do shine
Diamond Girl – you sure do shine
Credit: Image by Warner Brothers Records, Public domain, via Wikimedia Commons