Jewelry Blog Rockford, IL
Historic Donnersmarck Diamonds Expected to Fetch Up to $13.7 Million at Sotheby's Geneva October 30, 2017
A pair of fancy intense yellow diamonds steeped in history and weighing 82.47 carats and 102.54 carats, respectively, is expected to fetch up to $13.7 million at Sotheby's Geneva next month. "The Donnersmarck Diamonds" were famously owned by La Païva, a Russian-born courtesan who ascended into French high society in the mid-1800s, eventually marrying Count Guido Henckel von Donnersmarck, one of Europe's wealthiest men.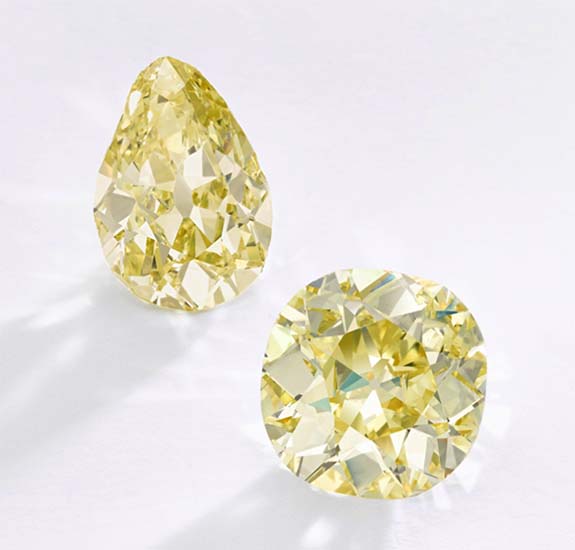 Sotheby's announced that the two diamonds will be sold as a single lot. The larger of the two diamonds is cushion shaped and carries an SI1 clarity grade. The smaller one is pear shaped and boasts a VS2 clarity.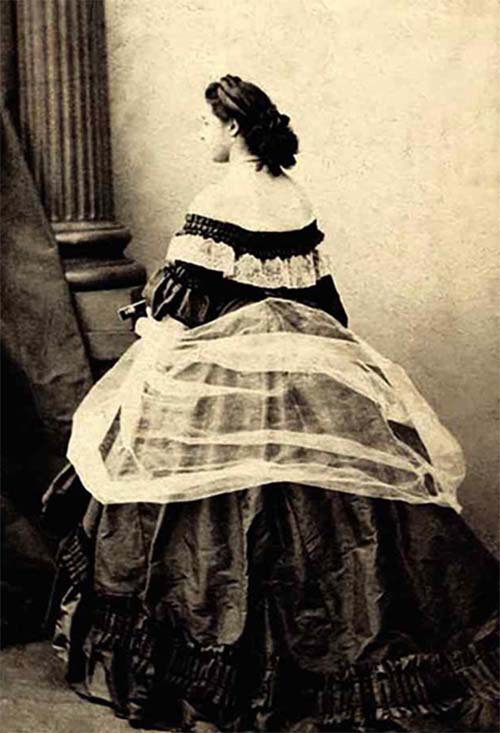 La Païva, also known as Countess Henckel von Donnersmarck (1819–1884), was said to be so enchanted by her diamonds that she insisted that the central staircase of her mansion in Paris — Hôtel de la Païva — be made of Algerian yellow marble to match their hue.
Noted David Bennett, Worldwide Chairman of Sotheby's International Jewellery Division: "These stunning diamonds carry with them a fascinating story, full of romance and determination over adversity, which could have inspired some of the greatest novels and operas, from Manon Lescaut to La Traviata."
Born Esther Lachman of a Russian family of modest means, La Païva arrived in Paris at the age of 18 to pursue her dreams. She was rapidly introduced to the city's cultural and artistic circles by her lover, piano composer and pianist, Henri Herz. Among her close friends were composer Richard Wagner, conductor Hans von Bülow, poet Théophile Gautier and journalist Emile de Girardin.
In 1851, she married the Portuguese Marquis Albino Francisco de Araújo de Païva, an heir to two important Macao wholesale fortunes. That marriage would last only one day, but her nickname, La Païva, would last her lifetime.
A year later, she crossed paths with a 22-year-old Prussian industrialist and mining magnate, Count Guido Henckel von Donnersmarck. According to one account, she pursued him across Europe, pretending not to be interested in him, but always being at the same social events. A relationship ensued, and 19 years later, in 1871, the 42-year-old La Païva would receive an annulment from her one-day marriage and tie the knot with von Donnersmarck.
Among her wedding gifts was a triple-strand diamond necklace formerly owned by the deposed French empress, Eugénie. He also gifted her the twin baubles that would be known as The Donnersmarck Diamonds.
La Païva's died in 1884 and The Donnersmarck Diamonds would remain in the Donnersmarck family for more than a century. They first appeared at a public auction in 2007, where the pair earned slightly less than $8 million at Sotheby's. Now, 10 years later, Sotheby's has the good fortune of presenting them once again. They will be previewed during a five-city tour, which started in Singapore and includes stops in Hong Kong, Taiwan, New York and Geneva.
The Donnersmarck Diamonds will be a featured lot at Sotheby's Magnificent Jewels and Noble Jewels sale in Geneva on November 15.
Credits: Image of The Donnersmarck Diamonds courtesy of Sotheby's. La Païva image [Public domain] via Wikimedia Commons.