Jewelry Blog Rockford, IL
High on an Irish Cliffside, This Couple Experiences a Proposal Like No Other April 21, 2021
Buffeted by menacing winds high upon a cliffside in West Cork, Ireland, Blue Cassidy and his girlfriend, Maria Gilvanda, calmly played their roles as sweethearts enjoying a Champagne picnic at one of the most picturesque places on the planet.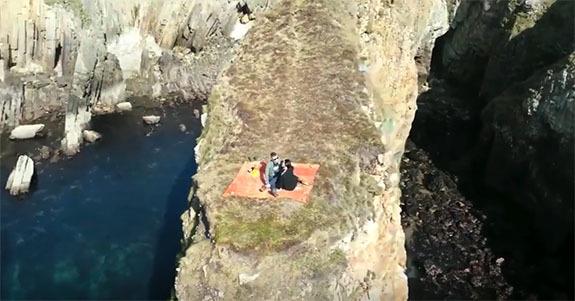 Gilvanda had been convinced by her boyfriend that they were participating in a tourism video. What she didn't know is that the drone filming their perilous rendezvous just steps from a sheer vertical drop into the Atlantic Ocean was actually documenting a stunning, one-of-a-kind marriage proposal.
Photographer and expert drone operator Niall Duffy nearly pulled the plug on the ruse because the drone was having trouble navigating in high winds. At the last moment, he decided to go forward with the plan because Cassidy had already delayed the proposal more than six months due to COVID-19 restrictions in Ireland.
"I was right on the edge with it, to be honest," Duffy told CorkBeo. "I didn't think it would work and I said maybe we could call it off until we got better weather. But, he had already waited six months so we went ahead with it."
In the viral video, the viewer assumes the vantage point of the drone as it soars high above the couple, revealing the awesome, jagged vistas that make County Cork such a unique destination.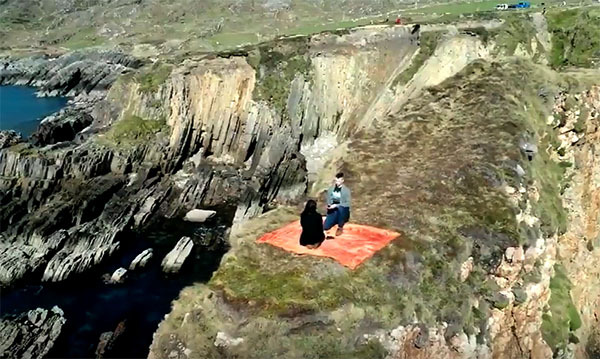 After circling the couple, the drone hovers directly above. Dangling from the drone is a cord with a very special package tied to the end. Cassidy stretches to reach the package, which contains a ring box. The drone's camera stays focused on the couple as Cassidy goes down on one knee and proposes to his startled, yet delighted, girlfriend, with a ring given to him by his mother.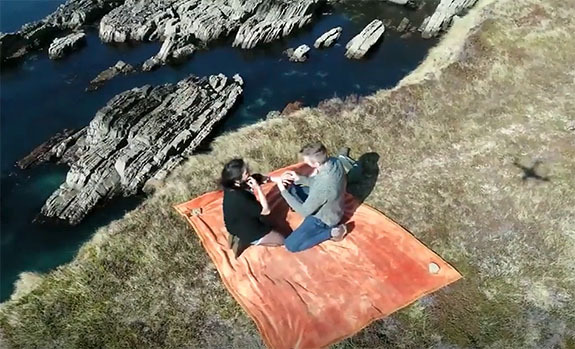 Said Duffy, "The drone got there, the ring arrived, she said 'Yes,' and everybody's happy."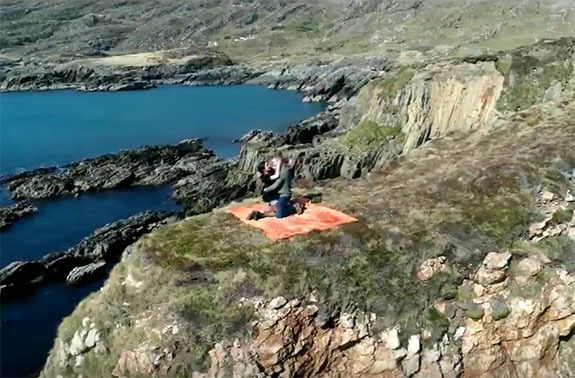 In the final seconds of the video, the drone zooms away from the precipice until the couple seems to vanish into the landscape. The couple is circled in the screen capture, below.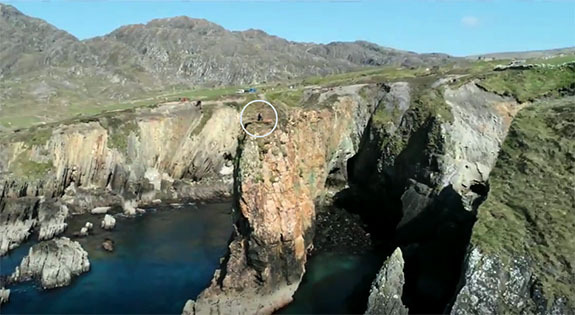 The couple has been overwhelmed by the enthusiastic comments and well wishes generated by the viral video.
Gilvanda told the
Irish Examiner
that part of the beauty of the responses has been the sense of hope the proposal has brought to many people.
"We were saying that we would like to make it a tradition every 10 years that we would go there and do a different video each year until our legs can't walk to the cliff," she said.
See the impressive video
here…
Credits: Screen captures via www.irishmirror.ie.