Jewelry Blog Rockford, IL
Exciting Run of Good Luck Continues at Arkansas's Crater of Diamonds State Park July 15, 2020
Sometimes good fortune comes down to being in the right place at the right time. It's called "serendipity" and that's the name Dr. Mindy Pomtree gave to the 6.39-carat, gem-quality diamond she plucked from the ground at Crater of Diamonds State Park in Murfreesboro, AR.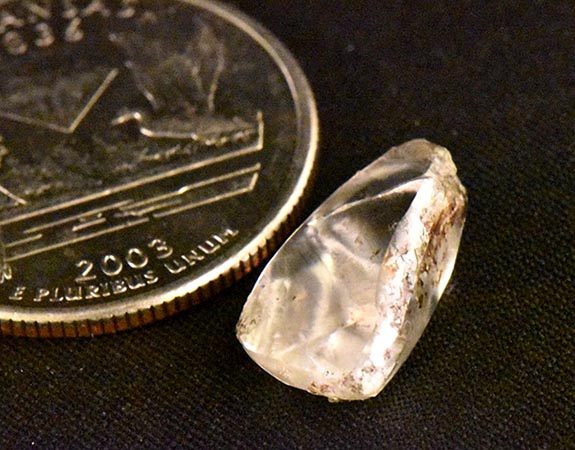 About the size of a pumpkin seed, the Serendipity is, by far, the largest diamond found at the park this year, easily eclipsing the previous 2020 record of 2.23 carats. The doctor's gem is the 12th largest diamond recorded at the park since 1972.
Dr. Pomtree discovered her diamond near Beatty's Hill, a landmark within the park's 37.5-acre search area.
She saw the glittering pebble on the surface of the ground and put it in a zippered pocket.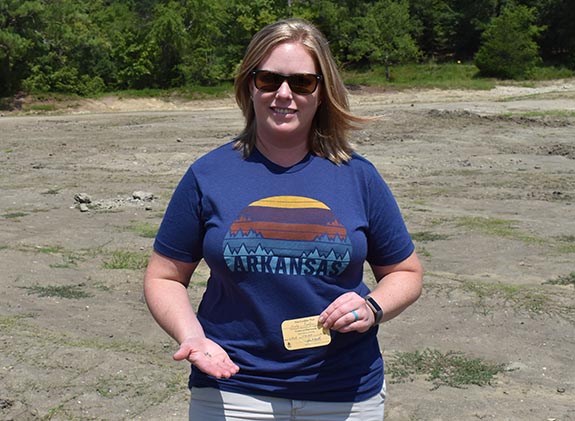 "I kept feeling my pocket throughout the day to make sure it was still there," she told park officials. "I didn't know if it was a diamond but thought it looked cool, and it was definitely shiny!"
A few days after returning home, Dr. Pomtree decided to show the stone to a jeweler friend, who confirmed that it was, indeed, a genuine diamond.
Little Rock-based jeweler Laura Stanley, who is an American Gem Society Certified Gemologist Appraiser, said the stone was very white in color and likely of gem quality. She said that it measures 15.21mm x 8.00mm x 5.86mm.
Dr. Pomtree returned to the park to have her record-setting diamond officially weighed and registered.
On Tuesday afternoon, the Serendipity was taking a bath in the jeweler's ultrasonic cleaner. There was still a stubborn dark area on the surface, but Stanley was confident that it would come off with a "good acid boil."
At Crater of Diamonds State Park, amateur miners get to keep what they find at the only diamond site in the world that's open to the general public. The park had been closed for two months due to COVID-19 health concerns, but reopened on May 22, just in time for Memorial Day weekend.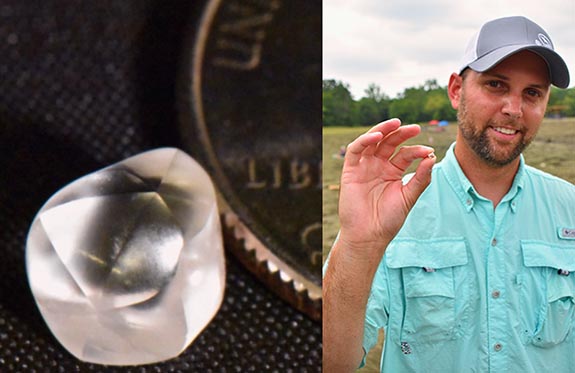 Since then, there has been an exciting run of large diamonds. Just days after Dr. Pomtree discovered "Serendipity," William "David" Dempsey from Athens, Ala., scored what is now the park's second-largest diamond of 2020 — a 2.73-carat bright white gem.
Dempsey first learned about Arkansas's diamond site from his fourth-grade teacher.
"I've been wanting to visit for more than 30 years," said Dempsey. "Recent news stories about the park brought it back to my attention, so we planned a trip."
Dempsey was wet sifting with his youngest daughter when he found the diamond.
"I was running my finger through some gravel I had just sifted, and the diamond popped right out," he said.
Dempsey named his gem the "Dempsey-Ducharme Diamond," as a tribute to his family's unforgettable experience at the park. He plans to have the diamond examined and appraised before deciding whether to keep or sell it.
"This unique park is one of our state's most popular destinations," said Stacy Hurst, secretary of the Arkansas Department of Parks, Heritage and Tourism. "It's always exciting for one of our guests to find a gem, and the staff is really great at working with them to confirm what they have found and hear each particular story of how they found it."
Credits: Images courtesy of Arkansas State Parks.