Jewelry Blog Rockford, IL
Exceptional Pink and White Diamonds Put Letšeng Mine Back in the News March 27, 2019
The Letšeng Mine in the tiny African country of Lesotho is back in the news after luxury jeweler Laurence Graff paid $8.8 million, or $656,933 per carat, for a 13.33-carat pink diamond sourced there. The per-carat price was a record for any Letšeng diamond.
"This is the most vivid pink rough diamond I have ever seen, and it is an exceptionally rare treasure," said Graff. "I am sure the polished diamond that comes from this rough will be an auspicious addition to our roll call of famous gems. It is an enormous privilege to own this natural miracle. We may never see anything like it again."
Hot on the heels of that first announcement, Gem Diamonds — a 70% stakeholder in Letšeng — disclosed that the prolific mine had yielded a 161-carat, white color, Type IIa gem.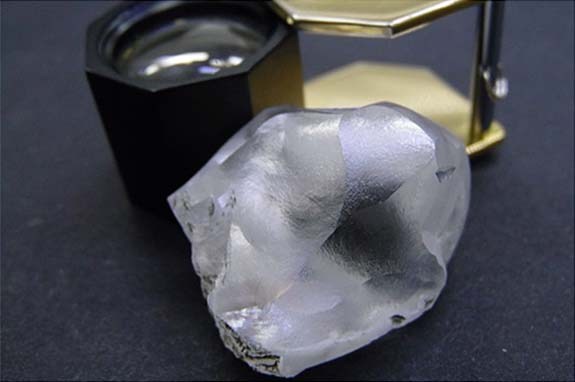 If you're a fan of fabulous diamonds, you may already know that the Letšeng Mine is famous for producing large, exceptional diamonds and generating more dollars per carat than any other kimberlite diamond mine in the world.
In fact, a little over a year ago, Letšeng made headlines when it revealed an amazing 910-carat D-color, Type IIa diamond. As the fifth-largest gem-quality diamond ever recovered, the Lesotho Legend was eventually sold for a whopping $40 million.
(Type IIa represents the most chemically pure classification of diamonds. They display exceptional optical transparency and make up less than 2% of all gem-quality diamonds.)
Gem Diamonds reported that Letšeng in 2018 yielded 15 stones weighing more than 100 carats, a record for the company. By comparison, it produced seven diamonds larger than 100 carats in 2017. And while the mine is best known for its flawless white diamonds, Letšeng is starting to make its mark in the world of fancy-colored diamonds, as well.
Despite its diminutive size (it's about the size of Maryland), the landlocked country of Lesotho at the southern tip of Africa is a powerhouse in the diamond world. Miners at Letšeng recovered 126,875 carats in 2018, up from 11,811 in 2017. The average per-carat value of the rough material rose over that same period from $1,930 to $2,131.
Letšeng has the distinction of being one of the world's highest diamond mines. Its average elevation is 10,000 feet (nearly two miles) above sea level.
Images: Courtesy of Gem Diamonds.
.