Jewelry Blog Rockford, IL
Domino's Is Giving Away a Pizza-Slice Engagement Ring Topped With Diamonds and Rubies February 5, 2020
Pizza lovers looking to pop the question this Valentine's Day have an opportunity to win a one-of-a-kind, pizza-slice engagement ring topped with bubbly diamond "cheese" and ruby "pepperoni."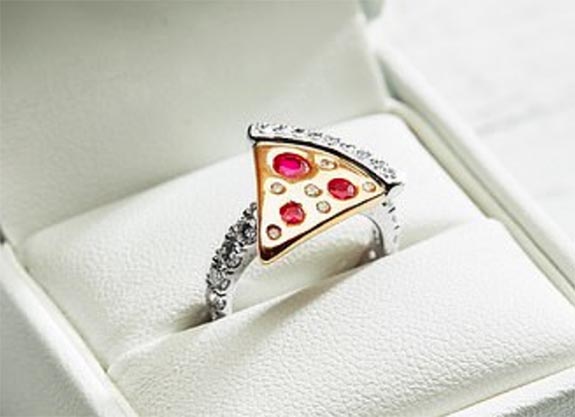 Via its
Twitter page
, Domino's Australia made this punny announcement on Monday: "Does someone have a 'pizza' your heart? We're giving one lucky pizza lover the chance to pop the question with this diamond pizza slice engagement ring!"
In order to win, contestants must submit a 30-second video detailing how they will involve pizza in their proposal. The entry form is
here...
Fabricated in 18-karat white and yellow gold, the ring has a value of AU$9,000, which is equivalent to about US$6,000.
In a pun-packed description of the contest, Domino's wrote, "Think you've found your slice of heaven and are ready to say, 'I cheese you'? We're giving one lucky pizza lover the chance to make a truly dough-mantic proposal this Valentine's Day."
The clever design features a triangular "slice" of yellow gold pizza garnished with three pieces of ruby "pepperoni" of varying sizes and six smaller accent diamonds that look like bubbling cheese. One might describe the ring as diamond "en-crust-ed."
"Pizza is made to be shared with the ones we love," Domino's chief marketing officer Allan Collins told AdNews.com.au, "so this year we want to honor that with something really special and help create the greatest, if not the cheesiest, proposal ever!"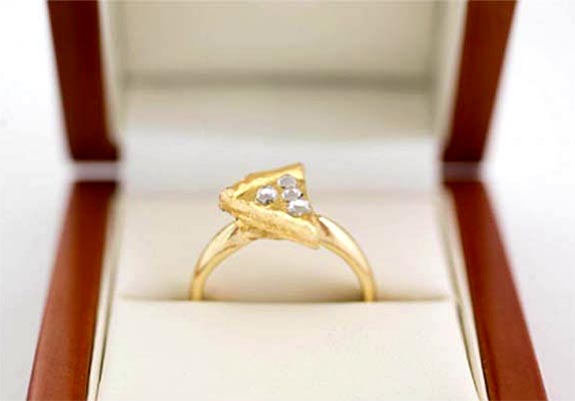 This is not the first time the worldwide Domino's chain has promoted a pizza ring in the lead-up to Valentine's Day. In 2017, Domino's in the UK celebrated the romantic season by giving away a one-of-kind, 22-karat pizza-themed engagement ring topped with four diamond "pepperoni" slices.
Domino's own study revealed that 72% of Brits were planning to eat in on Valentine's Day, with 6% of men planning to pop the question during the meal. The company's Facebook page said the engagement ring promotion was "probably the most taste-ful way to seal the deal, ever!
Founded in 1960, Domino's has 16,500 stores in 85 countries. The company employs 400,000 and generates annual sales of $13.5 billion. That's a lot of pizza.
Credits: Photos courtesy of Domino's.