Jewelry Blog Rockford, IL
Congratulations, March Babies! Your Official Birthstone Is Sea Blue Aquamarine March 3, 2020
As the official birthstone for the month of March, aquamarine is the sea-blue variety of the mineral beryl, whose family members include the intense green emerald and the pink to orange-pink morganite.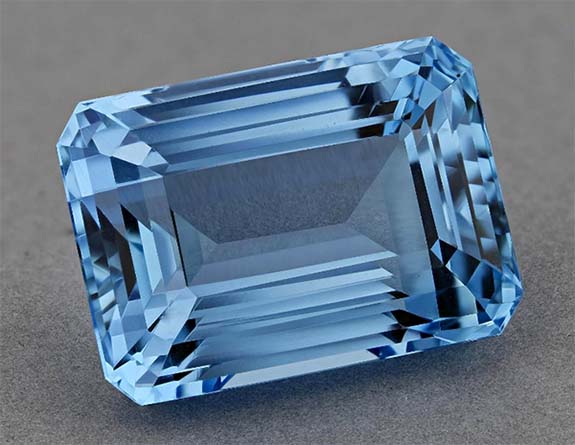 Aquamarine can range in color from rich blue to greenish-blue, with each variation dependent on trace amounts of iron in the gemstone's chemical composition. Interestingly, pure beryl is absolutely colorless.
The antique cushion-cut aquamarine seen above possesses the classic, coveted color of a natural aquamarine, according to the Smithsonian. Sourced in Brazil, the 65.44-carat gem was faceted by Insu Kang and gifted to the museum by David Yurman Enterprises LLC in 2015. The exquisite aquamarine is now part of the National Gem Collection in Washington, D.C.
In addition to its role as the official March birthstone, aquamarine is also the designated gemstone gift for a couple celebrating their 19th wedding anniversary.
Aquamarine is a symbol of youth, hope, health and fidelity.
Legend states that Neptune, the Roman Sea God, gifted aquamarines to the mermaids, thus bringing love to all who have owned it. In ancient times, it was believed that aquamarines kept sailors safe at sea. Medieval brides wore aquamarine to ensure happy marriages.
Beryl scores a 7.5 to 8 on the Mohs hardness scale, making it suitable for fine jewelry and everyday wear.
According to the Gemological Institute of America, the care and cleaning of aquamarine is simple. Using warm water, mild dish soap and a toothbrush, aquamarine lovers should scrub behind the birthstone where dirt can collect. Ultrasonic cleaners and steam cleaning are usually safe options as long as there are no fractures or liquid inclusions in the gem.
The largest gem-quality aquamarine ever mined weighed in at 244 pounds and was sourced from the Minas Gerais region of Brazil in 1910.
Aquamarines can be found in many countries, including Nigeria, Madagascar, Zambia, Pakistan, Myanmar, Madagascar, Vietnam, Mozambique and the U.S., but the finest-quality specimens come from Brazil.
Credit: Photo by Greg Polley / Smithsonian.