Jewelry Blog Rockford, IL
Chicago-Area Nurse Takes Break from Heroic Work to Accept Marriage Proposal March 23, 2020
As the clinical leader of Edward Hospital's Pulmonary Medicine Unit in Naperville, IL, Juliette Blondis has been working long, stressful hours treating patients with the COVID-19 virus. On Thursday — the first day of spring — her boyfriend, Bryan Goshorn, surprised the nurse with a marriage proposal on the front lawn outside of her workplace.
The couple had scheduled a romantic getaway, and Blondis had a hunch that Goshorn would pop the question, but those plans had to be scrapped because of the global pandemic.
Undaunted, Goshorn devised a way to surprise his now-fianceé while brightening the spirits of the hospital crew and its patients. He selected the first day of spring because it symbolizes rebirth, new beginnings and new adventures. He chose the front lawn because the hospital is allowing no visitors.
Goshorn drove Blondis to work on Thursday morning, but rang her cell phone a few minutes after she got into the building, claiming she had left something in the car. When she emerged from the building, Goshorn greeted her with a bouquet of flowers.
"He walked me out to the lawn and got down on one knee and proposed," Blondis told the
Naperville Sun
.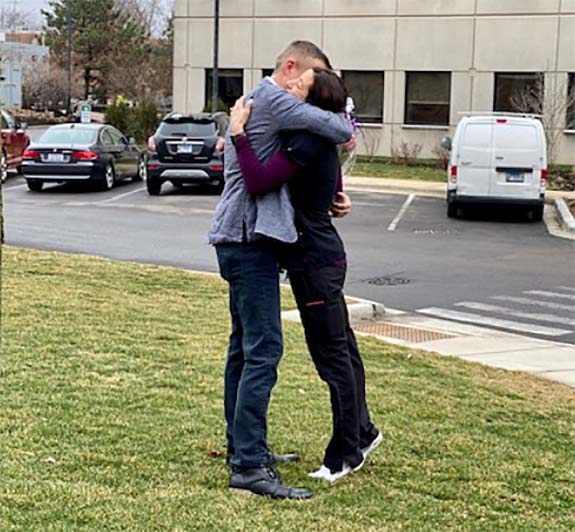 She said, "Yes," shared a hug with her new fiancé and then went back to tending her patients.
"l love my job at Edward and am a very positive person," she added. "These past two weeks have been incredibly stressful and my whole team has had a lot going on. This was definitely a bright light in everyone's day."
Blondis, 49, and Goshorn, 42, weren't the only ones uplifted by the beautiful moment. One of Blondis' patients watched from her window and later told Blondis that it was the highlight of her day. Doctors, nurses and other patients were excited to hear the big news and asked to see her new ring.
Goshorn noted that it's important to acknowledge the dedication of health providers on the front lines.
"They are doing heroic work and we need to all remember that," he told the
Naperville Sun
.
Credits: Images courtesy of Edward-Elmhurst Health / Twitter @edwardhospital.