Jewelry Blog Rockford, IL
7,777-Diamond 'Lotus Temple Ring' Snatches Guinness World Record From 'Lotus Ring' August 29, 2019
The 7,777-diamond "Lotus Temple Ring" recently earned a Guinness World Record for the most diamonds set in a single ring, overtaking the 6,690-diamond "Lotus Ring," which had earned the same honor in July of 2018.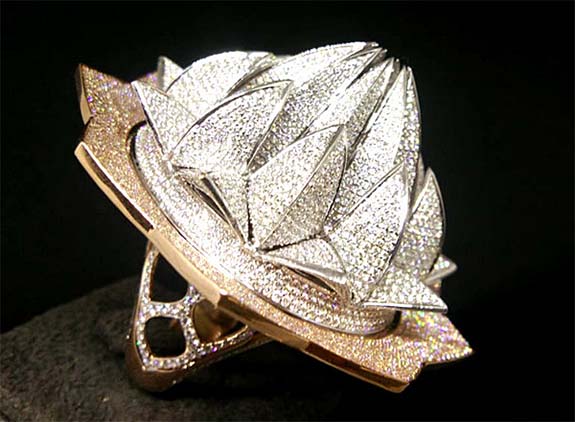 Valued at $4.9 million, the amazing bauble was designed by Mumbai-based Lakshikaa Jewels and inspired by the famous Lotus Temple in Delhi. The lotus flower is a sacred symbol in several of India's religions, imbuing the design with a sense of unity. A team of 12 crafters and one jeweler/designer worked 18 months to complete the project.
The Lotus Temple Ring features brilliant-cut, natural diamonds set in 18-karat white and rose gold.
"I couldn't think of a more appropriate way to celebrate human ingenuity and spirituality than this temple," said Lakshikaa Jewels founder Naveen "Prince" Bhandari, who headed up the ambitious, multimillion-dollar endeavor.
"India has a long and rich history of jewelry-making," Bhandari added. "Our Maharajas and Maharanis would hire the best artists of their time to create jewelry worthy of their stature. Since then, Indians have inherited a fondness for jewelry and an eye for craftsmanship, which is unparalleled in the world."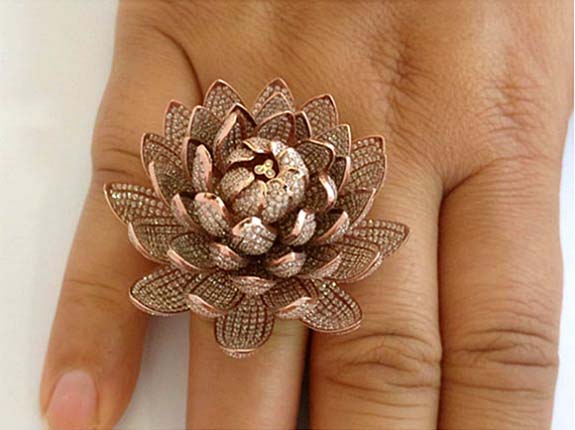 A little more than a year ago, the "Lotus Ring" was in the news for smashing the same Guinness World Record for the most diamonds set in a single ring. By employing a design featuring 48 individual diamond-encrusted "petals," Indian jewelers Vishal and Khushbu Agarwal were able to set 6,690 diamonds into an 18-karat rose gold structure.
Their intricately detailed ring took more than six months to craft and was valued at $4.1 million.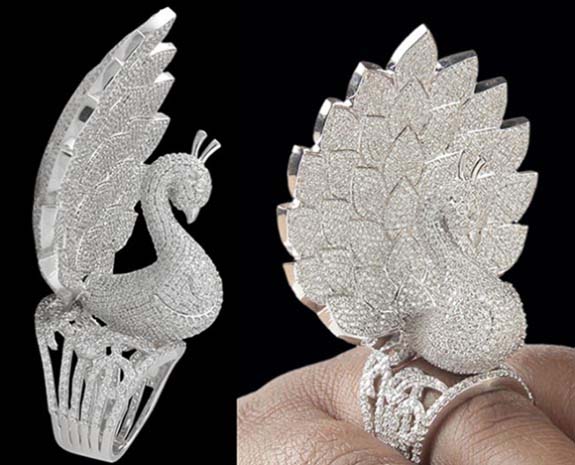 The Lotus Ring had dethroned Savio Jewellery's "Peacock Ring," which established its own record in 2015, with 3,827 ideal-cut diamonds set in 18-karat gold. That ring had an estimated value of $2.7 million.
Credits: The Lotus Temple Ring and Lotus Ring images courtesy of Guinness World Records. Peacock Ring by Savio Jewellery.