Jewelry Blog Rockford, IL
550-Pound Swarovski Treetopper Is the 'Star' of Rockefeller Center's Annual Celebration November 30, 2017
Two weeks ago, New York City crane operators carefully maneuvered the iconic 550-pound Swarovski Star onto the top of a 75-foot-tall Christmas tree at Rockefeller Center. Set with 25,000 crystals and gleaming with one million reflective facets, the 9.5-foot-wide stunner has been the "star" of the tree-lighting celebration since 2004.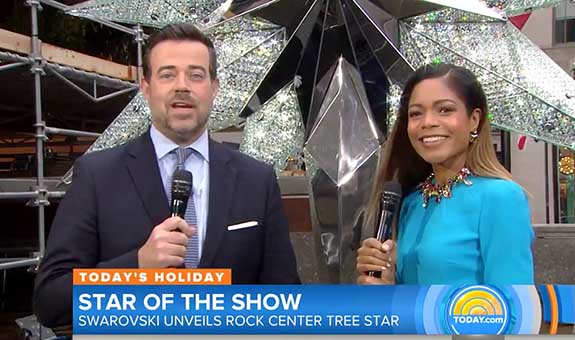 Each year, the star is welcomed to the Rockefeller Center site by a celebrity guest. On November 16, British actress Naomie Harris joined NBC host Carson Daly to share impressive facts about the star with viewers of the
Today Show
before it was lifted skyward against the backdrop of the scaffolded Christmas tree.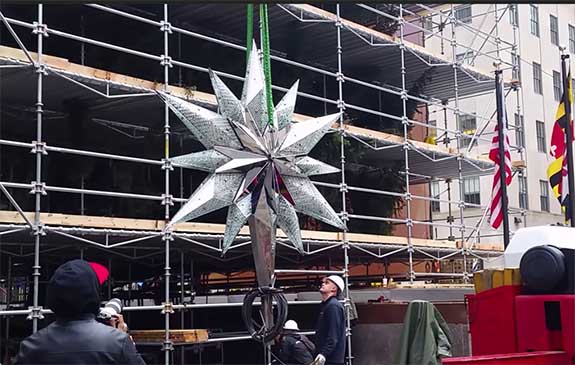 Last night, the tree came to life during a gala celebration that officially kicked off the holiday season in The Big Apple. The event, which was headlined by chart-topping "Hollaback Girl" Gwen Stefani, was witnessed live by thousands of chilly tourists and aired on NBC to millions more from coast to coast.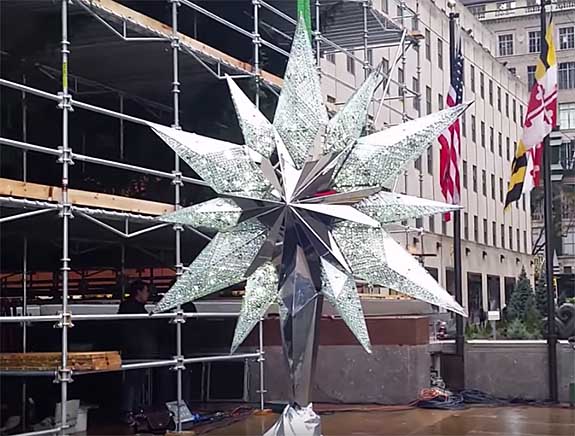 The star, which has six outer rays and six smaller inner rays, glows at night with 720 energy-efficient LED bulbs that are programmed to give the appearance of the star radiating light from its core to its tips.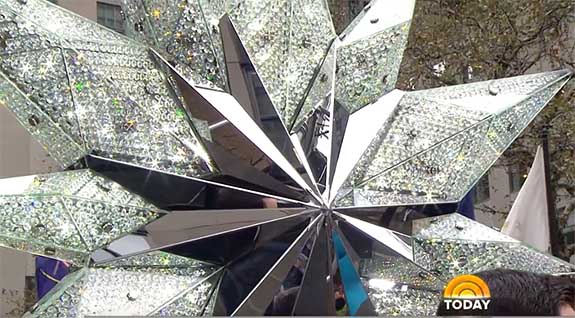 According to Swarovski, the main surfaces of the rays are made of point-mounted safety glass, which is the same shatterproof glass that adorns the facades of New York City buildings. The crystals are affixed to the inner sides of the glass in a tight, scale-like pattern to ensure maximum brilliance. The crystal panels weigh a total of 300 pounds.
Building, testing and programming the star took a team of nine Swarovski artisans 1,200 hours to complete. Among their challenges was coming up with a design that could withstand the windy, winter weather conditions high above Rockefeller Center.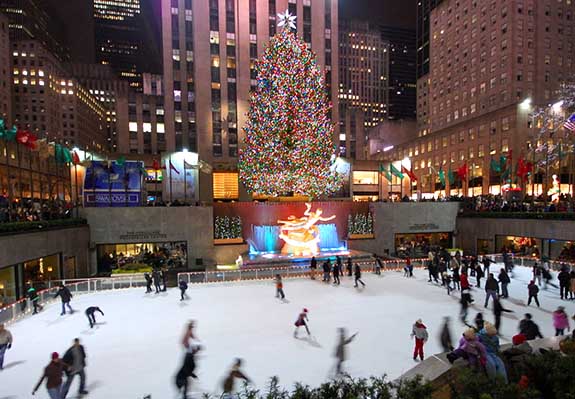 This year's tree is an 80-year-old Norway spruce from State College, Pa. In addition to the famous treetopper, the tree is decorated with 50,000 LED lights. It will be lit each evening through January 7, after which the tree will be milled into lumber for Habitat for Humanity.
Rockefeller Center officially began the tree-lighting ceremony in 1933, when a Christmas tree was erected in front of the then-RCA Building and covered with 700 lights.
Last night's tree-lighting celebration featured performances by Stefani, Brett Eldredge, Leslie Odom Jr., Pentatonix, Jennifer Nettles and The Tenors.
Credits: Swarovski Star and Today Show screen captures via YouTube.com. Rockefeller Center image by Gabriel Rodríguez from Sevilla, Spain [CC BY-SA 2.0], via Wikimedia Commons.